Wednesday, 24 September -
link
self-motivated to live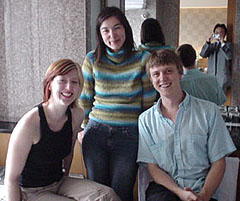 Cerulean bathtub with a view - photo by Matsumoto-san, the bellboy happy in English after a forty day trip last January to snowy New York city.
Just landed in Tokyo, fortunately with
a pocket full of friends
.
Jane
and I are travelling for the next few days in the company of
Alan
, Robin and Doug.
Robin
has a fantastic shiny head of hair, dyed warm metallic colors. Doug is on his way, from what I hear, he'll be bringing a bag containing only a single pair of pants and a bunch of power supplies. With my new
efficient travel regime
, I have more gadget adapters than undergarments for my month-long voyage. Fortunately for all involved, there are
many robes
in the floating kingdom.
The next few days will be solid wall of video game footage and conversation. And then? Freedom. Freedom surrounded by power cords. In spite of my desire for untethered electronic roaming, I am glad the GameBoy Advance SP is rechargeable.
All my talk of technology neatly obfuscates a confusing life, busy with travel and unsure of standing. I'd recently considered myself a careful man, not accustomed to purchasing and repurchasing things lost on the road. But I'm losing things as I move. Even when I was sitting still, I was only preparing for a chance to shuck burdens, so I could feel relaxed as I age. Movement and change once still seem liberating.
Deadlines focus my freelance writing - knowing in advance how much time I have to complete a project. I'm discovering that deadlines in life are mostly unassigned - you really have to be self-motivated to live.
Posted on 24 September 2003 : 19:26 (TrackBack)
Read Comments
February 2005 - comments are closed on Links.net. Thanks.