Saturday, 16 August -
link
Jane's Worx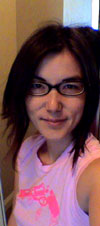 Jane has been busy.
This week she recently re-launched her personal web site umamitsunami.com (umami tsunami - that's Japanese for "a big fucking wave of deliciousness"). Her site had been mostly dormant for a while; I think she needed a chance to hit the reset button. I'm glad to see her posting again online about her projects and inclinations - I first got to know her through her writings online!
Earlier in July, Jane travelled to Indianapolis for GenCon, America's largest role-playing game convention. Jane loves games, but she struggles with being a geek and not always identifying with a predominantly male geek culture. She took her questions on the road, resulting in "FemCon:" a heartfelt survey of women in pen and paper games.
And her band Dealership is going on a West Coast tour in the next two weeks. If you want to see some awesome smart punky pop, I can't recommend Dealership more highly. Jane sings and plays guitar and keyboards, along with two energetic witty fellows named Chris. They're all completely charming and they make fun, provocative music - even better than what you'll hear in a fistfull of Dealership MP3s. The tour schedule is available online on the fun Dealership web site; I'll reproduce some of it here:
August 17th - Twiggs Coffeehouse (San Diego, CA)
August 18th - Espresso Cafe (Oceanside, CA)
August 19th - The Gypsy Lounge (Lake Forest, CA)
August 21st - Le Voyeur (Olympia, WA)
August 22nd - Graceland (Seattle, WA)
August 23rd - Bob's Java Jive (Tacoma, WA)
August 27th - Spaceland (Silverlake, CA)
Finally, Jane wrote up our time at the the Björk concert and afterparty for the Dealership diary. She did some fair justice to the tipsy clothes switching that happened in the presence of that modern musical goddess.
Posted on 16 August 2003 : 16:13 (TrackBack)
Read Comments
February 2005 - comments are closed on Links.net. Thanks.