Kissing Gonzalo
Jane and I met a gentleman we're both fond of - Gonzalo Frasca of Ludology. His is the best web site tracking developments in academic studies of games; academic with an attitude!
He's from Uruguay; he's founded a game development studio there. He brought us each a present - a bright beautiful red and pink scarf for Jane, and for me a small gourd followed out and lined with metal for drinking Yerba Mate. We didn't bring him squat. "Don't worry, that is the custom of my country," he assured us, "Now everyone from Uruguay will hate you."
We were touched, so we gave him a kiss: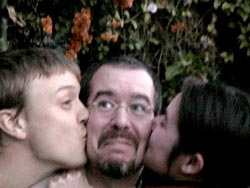 Posted on 15 May 2003 : 17:29 (TrackBack)
Read Comments
February 2005 - comments are closed on Links.net. Thanks.