Going Out-Of-Date Sale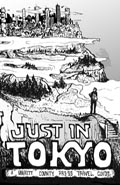 The last few copies of my 2002 tour guide to the electroclash capital Just In Tokyo will be on sale online until the end of April. My publisher has asked me to revise the booklet, which I'm putting off until Jane and I next get a chance to visit Japan, probably later this year.
Just In Tokyo, Just 10$, Just this month.

Posted on 25 April 2003 : 12:47 (TrackBack)
Read Comments
February 2005 - comments are closed on Links.net. Thanks.