Nebraska Family Drive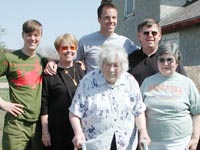 We had family quality time in Nebraska - flying in Friday, driving nine hours Saturday, leaving Sunday. All that momentum ended up in a graveyard, where my grandparents lie, and three horses standing at the barbed wire fence watching. A full-throttle way to experience a tranquil part of North America.
Nebraska Family Drive
Posted on 21 April 2003 : 00:22 (TrackBack)
Read Comments
February 2005 - comments are closed on Links.net. Thanks.