Wednesday, 12 March -
link
Three Three
Three conferences in two weeks [030303|GDC|SXSW]. Knowledge gathering! Illness promoting - late nights of conversation with far-flung people drawn near over interests and sponsored BBQs. I have now a fever and a dripping nose in a foreign town so I'm recuperating in a home not my own. Fortunately Jane and I are enjoying a warm host in a balmy city. Knowledge gathering continues - towards what?
Latest writing: Splinter Cell review. Something unsettling about enjoying a Tom Clancy game when we're caught up in global conflict.
And, my first Wired magazine piece in about eight years; a postcard from the Indie Game Jam: The Fantasy Life of Coder Boys - The Games You'd See if Money Were No Object.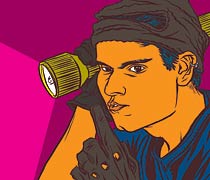 Posted on 12 March 2003 : 17:45 (TrackBack)
Read Comments
February 2005 - comments are closed on Links.net. Thanks.