Japan: Lodgings: Love Hotels: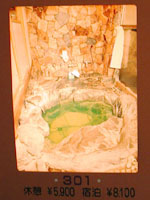 Onsen is the traditional Japanese baths, where young and old, male and female Japanese stew alike in healing waters. Tsurunoyu is a first-rate example of severely old-fashioned Japanese onsen. Hotel Sekishu offers the Japanese onsen experience chopped and cooked in a sex pan with 1960s seasoning.

There were a range of rooms available, I chose the most expensive (8010 yen - $60 dollars, instead of 6900 yen - $53 dollars). Room 301 had a large tub that could seat two, or maybe three smaller people. The attached bedroom was in a traditional Japanese ryokan style, with rice-paper covered sliding doors, straw tatami mats floors, a small wooden table with cushions for sitting. Leading into the room, past the sliding door fashioned of black-painted bamboo, a series of granite stepping-stones set into green painted concrete.

The sliding screens, wood touches, tatami mat floors, inset stones successfully conveyed a sort of feeling of visiting a postcard of old Japan. And this amidst a district crowded with bright neon lights advertising more contemporary love lodgings.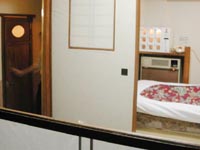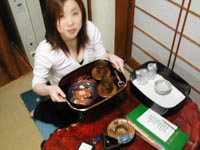 Still this was unmistakably a love hotel. There was a sex toy vending machine, typical of all Love Hotels, this one boasting a large laminated color "Adult Goods Catalog" promoting the dildos, vibrators and handcuffs for sale. There was a tiny ultra-modern Sony TV with two channels of porn set on a plain aged wooden cabinet.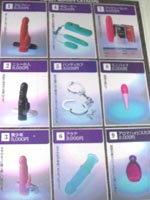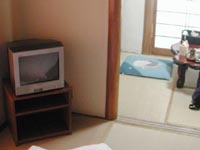 The bed was just a antique brown mattress, not a futon. The bedside console for lights and radio looked old enough to be powered by vacuum tubes. The phone in the room was a museum piece. The toilet was old-fashioned Japanese squat toilet. They didn't take credit cards.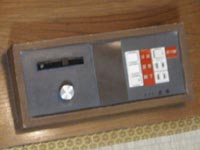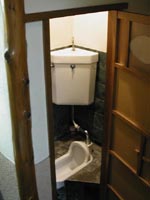 But none of this mattered when you sat down in a large rock tub filled brimming with hot water in a darkened room lined with stone.
After the toilet, past the bedroom and sitting area, near the windows facing the street, there's a large stone-lined bathing area.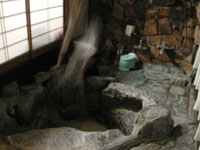 The walls are inlaid with chunks of brown rock, and the floor varied between small stones studded in concrete with larger chunks of stepping stone.
Set amidst this is a deep tub. Shaped roughly in a circle, and graciously seating two. You can shower on stone nearby, and turn the tap to fill the stone circle. We let it run over; the water spilled and ran through the rocks on the floor like bit of a mountain stream. And then we sat in it and enjoyed this bit of mocked-up mountain atmosphere so close to the city.
I was first clued into this onsen-themed love hotel in one of the few thorough English-language articles on Love Hotels available online: Between a Rock and a Soft Place by Andreas Stuhlmann.
The ceiling in the elevator was cool dated funk.
Love Hotels | lodging | Japan | trip | life
justin's links by justin hall: contact