links.net
:
vita
:
fam
:
Warren McClurg and Delia Allyn
My Mother's parents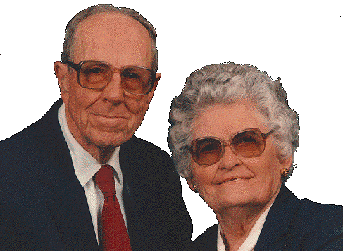 Married 1930 - 1999

Parents of Marilyn, Joan and Jim. Both born and raised in Nebraska close to the turn of the century. They were school teachers for decades, both taught at the same schools. My Grandmother was a Home Economics teacher, and my Grandfather was a Math teacher and superintendent of schools. If you travel around in north central Nebraska, it won't be long before you meet someone who was schooled by them (or whose parents were, at least).

It doesn't get any more decent than this.

I feel fortunate to have been able to leave the city and spend some time with down to earth people in rural America. I would work while I was there, on their garden, on projects with Grampa, washing the car. I never really had chores at home, so this was a powerful lesson in the value of work. We actually did stuff - plant a tree, set up a birdfeeder, pick vegetables, build shelves, clean the garage. Tangible results, pride in accomplishment.
justin's links by justin hall: contact