links.net
:
vita
:
fam
:
Uncle Jim
My mother's brother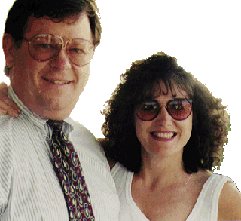 My Uncle Jim is a funny guy.
He always gives funny presents. Once, he gave me a trantula encased in glass, as a paperweight. This last Christmas, he gave me a travel alarm clock with a picture of him and his wife, and it wakes me up to their voices!
For three years running, he though my birthday was on the 19th, not the 16th. When he found out, he would ask me if I was sure of the day each year thereafter.
We took a trip to Russia once in 1987. he did funny stuff there too.
One time he told me I could stay up all night playing on his computer. I'd just discovered Deja Vu, point and click detective amnesia adventure in mobland chicago on a black and white mac. I was hooked until 6.30am when Jim, "I came out, and the kid is still playing this fuckin' game."
Jim and his wife Lori call looking for me (256k aiff)
Lori, aged midway between my uncle and I when I was 19, has been an energizing force in his life. She likes to challenge me from her Nebraska capitalist conservative perspective. The Internet is a hot topic between us. She enjoys bubblebursting, but she is too quick to discourage an idea - a sort of fundamental mistrust. Maybe it's the computer world. Perhaps it's human nature, or maybe just cynicism - reverse idealism.
She was my second relative with e-mail. She has it because she works for Lincoln Telephone and Telegraph, the primary phone service provider for the capital of Nebraska. She is always on the cutting edge of communication technology, so I argue techno-economic policy with her. She thinks I would make a good capitalist.
She's taken to asking me about my plans for web compensation.
justin's links by justin hall: contact