Saturday, 25 September -
link
j-shot
In Japan. It's a blast. Sweaty wandering gathering footage. Two movies to make - one mini-documentary on the Tokyo Game Show, at the request of my faculty advisor Scott Fisher. The other movie to make, a silent short for film class, I don't have a plot. But I plan to shoot a lot of closeups of friends' faces expressing emotion, then I can stitch them with Tokyo b-roll to make drama. I have an article assignment for TheFeature to write about mobile games in Japan by Friday. My Mom is coming to visit my house in LA on Wednesday; I get back Monday, so I gotta clean up and get ready for that fast! And I gotta write a video game by Monday, to turn in seven hours after I land. Fortunately, I just totally scrapped my preliminary game design in favor of a game design system I've never used. So I'm looking forward to that challenge. On the flight back, I guess?
Here's some photographs, to illustrate the human horsing around that bookends all this media intention: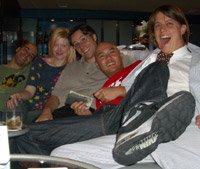 At the top of the Makuhari Prince Hotel, Alan shares his footwear with Doug, Robin, Mark and me.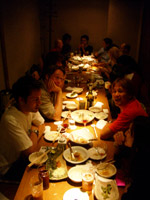 Alan and Akiko organized dinner at a fantastic place - Torafuku in Aoyama. Pork that deep tissue messaged my tongue with salt and fat. English and Japanese, game developers, game journalists, AI researchers, hardware developers, industry relations. I translated a bit between one of the designers of Ico and Doug and Robin, but not very well. Doug noticed that I punctuated each statement with a expression of serious uncertainty, or a thorough facial shrug. He was amused. I had a grand time, but I couldn't fight fatigue. When it came time to hit the bars after dinner, I went face down into my bed at the hotel.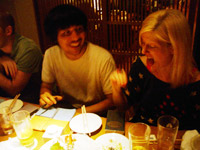 Robin sat next to the designer of Katamari Damacy, an unusual game where you play a dung beetle accumulating piles of modern objects. He didn't speak much English and besides that he was sort of gleefully ornery and artistic-difficult. I helped translate, or obfuscate, between them as I could. Finally they learned to rely on drawings and pictographs to communicate between them.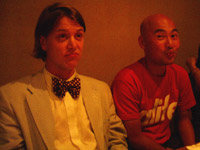 Robin snapped this photo of Alan and me. By this time I had been walking a long way in a sweaty suit. Alan always looks like that.
Posted on 25 September 2004 : 08:13
Read Comments
February 2005 - comments are closed on Links.net. Thanks.