Tuesday, 24 February -
link
now we must pack up every piece
Strong menthol chinese white flower singes my nose underhairs. I'm getting sick again! Hah! Another cold. I've rubbed sinus clearing ointment near my nostrils. And I'm sleeping and vitamining. At least I can remember my rich weekend from my sickbed. My socks all smell like cigarette smoke. I've decided I'm tobacco intolerant. London, you may kill me first, but you'll die shortly after, spewing cockney rhyming slang from holes in your neck.
Howard has said of my frequent maladies, chastizing me for not visiting a doctor and taking care of my health: "if your computer was that screwed up you'd deal with it."
My Treo 600 is battery dead, works only when plugged in. Clicking on a jpeg launches ACDSee which now crashes instantly destabilizing my other programs in progress. Any Quicktime video brings my computer to a jittering halt. So the old X21 is wheezing as well.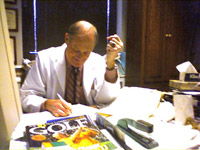 I went to the Doctor last week in Chicago. A full physical. The first time in years I'd had a doctor's hands on me, sounding me out, tapping on my chest, listening to my heart and my breathing, poking at my organs.
He heard a slight asthmatic wheeze when I exhaled. Not that I have asthma, he said, but I have an asthmatic reaction to infection, a hyperactive airway. He gave me a Combivent inhaler I should use when I'm sick like this, a cold with pale fluids, to keep my passages open. If my fluids are yellow or green, he gave me an antibiotic prescription.
He also detected a slight click from my heart. He wonders if I have something like a systolic ejection murmur. Yum. I have no idea what that means. Bad? Serious? Early sign of heart disease? No problem? In the next few months he wants me to get an echocardiogram.
Posted on 24 February 2004 : 07:09 (TrackBack)
Read Comments
February 2005 - comments are closed on Links.net. Thanks.