Tuesday, 17 February -
link
Before the Road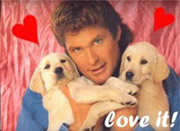 Posted my latest article for TheFeature: "Harnessing the Hacker's HeckleBot." Ostensibly a story about the Emerging Technology Conference in San Diego last week, it's secretly a reflection of my own struggle to manage my attention span when I have access to the internet and I'm surrounded by hyperactive geeks and I'm supposed to be listening to in-person presentations but the nature of communcations online suits me more readily.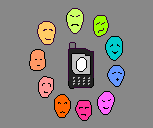 And another cartoon about the mobile internet: center. And I was surveyed about games on Sunday.
Other assignments pending! And another trip, leaving Wednesday for Chicago, Friday for London, Saturday for Paris. Something like that. I'm going to see my Mom, and visit the doctor for a thorough checkup (why do I get a cold every six weeks? Besides the fact that I fly a few times a month and I don't eat properly. Besides that. Maybe I'm allergic? Let's find out for sure).
I'm going to visit my brother. And I'm going to meet a few people working on multiplayer games for mobile phones, and a French gent working on a documentary about video games. And hopefully Jyri in Oxford. Probably some other folks I can't even imagine yet.
Neighbor Oliver has been visiting me a few times a day, bringing me food, pestering me about the decrepid state of my front yard. What else is going on? I worked hard today writing and reading and then played a bunch of Freedom Fighers. It was quite fun. So fun I forgot to do some more painting. Ate almonds and raisins for dinner. It was raining, I was glad to be warm in bed. Relaxing just a bit before I hit the road again.
Posted on 17 February 2004 : 02:25 (TrackBack)
Read Comments
February 2005 - comments are closed on Links.net. Thanks.