Thursday, 25 December -
link
Turn Out My Pocket
Finally rockin' The Streets, after hearing it first in Las Vegas in Wilson's SUV before the SAME Fashion show. Robin reminded me. Nice cheeky tude, good fun flow. "Original Pirate Material" - if you're looking for good beats and foreign word pictures.
This evening it was a choice between personal gratification or geek work. The latter - some infrastructure: /re/equip/treo, detailing my current technology fascination. I left my camera battery charger in London so I've had to use my Treo as my visual notetaker. You can see the results here: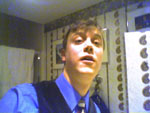 Tonight I met a young man working on his own tracks in a bedroom music studio - he'd mixed up old blues with drum and bass and recordings of his own rap. Inspiring.
Posted on 25 December 2003 : 23:16 (TrackBack)
Read Comments
February 2005 - comments are closed on Links.net. Thanks.