ka me ra
I have worked a Nikon CoolPix 880 into the ground. The buttons have lost their color, the black plastic rubbed shiny and smooth. And then just last month, after two years of being slung into a thin canvas bag and hurled around my car and my countries, the screen started to flicker. With a digital camera, the screen is your lens on the world - when it goes black, your camera is blind.
Maybe my camera was retiring itself since another camera had just arrived; acting upon years of pent-up desire I purchased a video camera. Ryan advised me ("I've bought 3 of them") to a Sony PC101, a mini digital video camera that is about as big as my fist. Completely handheld, nice picture, pocket-sized, powerful enough.
So now I'm shooting video! Jane and I wander into "VidKid" in Meguro - hey let's go in there she says and there's a fashion expo in progress; nothing you can buy, but the designer is on hand for a short interview on diversity in Japan and California.
We've been comissioned by a crazy Frenchman whose email name reads "cyberjerome" to contribute to an Arte documentary on issues in video games. So we'll be interviewing players and designers here in Tokyo, and filming a sort of game diary as we go. I just interviewed Jane playing NeverWinter Nights on the bed here in our temporary lodgings. She was half-naked from the heat; hidden from the camera by her unfolded laptop screen. Fun to grab these moving moments on magnetic media.
Of course I miss the snapshot quality of my old digital still camera. I see so many scenes I want just to capture, still, unmoving. There's so much less editing and thought involved. Just a moment - some citizen of Tokyo surrounds a large traffic light box with potted plants. A window full of stuffed animals sitting in athletic shoes.
The video camera begs all sorts of questions, and spending. I need a wide-angle lens, I think - to see more on screen. I need a better microphone, for noisy interiors. I need a ton more blank videotapes. All my friends who do video edit their video on Macintoshes. So either I'm going to need some new friends, or another computer. Finally, I want to find a way to stick some brief video moments up on the web without blowing my web hosting bills through the roof.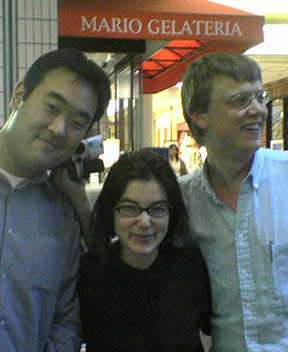 I'm glad to have finally taken the moving picture plunge with my first video camera; it feels like the slow opening in a new chapter of personal documentation and world reflection. Shooting video demands editing too, so I will learn something of televisual packaging.
Joi snapped a mobile phone photo of Jane Gen and I. There's so many little lenses in the world today; mobile phone cameras are really exciting to watch as they upend stability and privacy in places of media control and sanctity. People are picturing each other and distributing those pictures at an ever-faster rate.
I brought Jerry Mander's "Four Arguments for the Elimination of Television" with me to Tokyo, where the televisual lords over grey urban slabs strung together with tangled black wires.
Posted on 1 July 2003 : 23:54 (TrackBack)
Read Comments
February 2005 - comments are closed on Links.net. Thanks.