Wednesday Night Bars in San Francisco
Harvey and Randy Smith, Ion Storm game developer brothers were visiting from Austin. Jane and I got a call after dinner that they were free. We don't go out much in the city of San Francisco, unless it's for a Dealership show. But I convinced Jane that we would come up with something - at least a drink in a hotel somewhere nearby. And they were having us pick them up near the Stud, which might be an appropriate bar for Bay Area visitors.
Once they were crammed into the back of my tiny sedan I remembered Farallon - among the most stimulating interiors in the city. Glass lights moulded as squid and jellyfish, convex wooden doors to the bathrooms - I figured we could have one expensive drink there and soak up the vibe of late 1990s San Francisco well-financed whimsey. I had a drink called someone's hammer with ginger beer, grapefruit, aquavit, salt and a cucumber - yum.
Then we scooted over to Li Po in San Francisco China Town, which I figured would be a good dive bar resolution for the night. A visiting expert on New Orleans entertainments first took me there, and Jane and I Li Poed last month for 80s dance night in the deserted basement. Tonight had a similar empty but charged feeling - a few Cantonese-speaking dice-slamming older men at the bar smoked in violation of California law. I ordered two mugs of tea for the Smith brothers - the bartender was incredulous. So I asked for the special of the house (what I usually drink at most bars) and he mixed up a Mai Tai in a blender with some kind of sour Chinese wine from a bottle poured over the top at the end. Then he went to fetch the tea and called out, "We only have one tea bag!" Which was great considering we were probably proixomate to more tea vendors than anywhere else in Northern California. I let out a hearty laugh, he joined me. And then he charged me more for my Mai Tai than we'd paid for any of our drinks at Farallon.
At both places we talked about what makes games great, and what makes them sell. These men are game developers, so they create. But as they have been in the business for some time, with some vision and leadership, they are increasingly exposed to business decisions about what games to fund and what games to trim.
We ended up swapping Randy for Ryan Junell and eating two plates of midnight vegetarian Super Nachos at Taqueria Can-Cun where I said to the friendly group of guys working the late shift, "Mas nachos, por favor, but carne nai" a mutant but understandable mix of Spanish Japanese and English.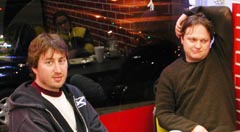 Ryan regards Jane speaking while Harvey catches the cameraman.
Posted on 3 April 2003 : 11:06 (TrackBack)
Read Comments
February 2005 - comments are closed on Links.net. Thanks.