Friday, 28 February -
link
Las Vegas - Made in Vagina
Long a creative force, hard uttering agressive intelligence but not paid to produce of his own mind, college friend Wilson has discovered a craft in the world of low-fi boutique fashion. Last week, Jane and I volunteered to be his "Made in Vagina" models.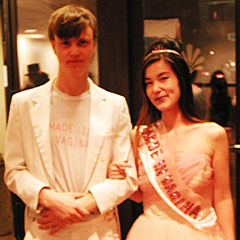 SAME fashion
Posted on 28 February 2003 : 16:09 (TrackBack)
Read Comments
February 2005 - comments are closed on Links.net. Thanks.