Have you dreamed of traveling to a far off country, to see the world through another set of eyes? And then sharing what you see with the web? If you write a winning proposal, you could win a free plane ticket to a leading city in Asia, Africa, Europe or the Americas.

As a result of travel funded in part by readers of his web site, Justin Hall has accrued many frequent flyer miles. To celebrate the 8th anniversary of "Justin's Links" held a contest to give away a plane ticket for someone who will travel and make something out of it for the web.

Eight judges selected two winners from a pool of more than fourty proposals.

Proposals:
Have you been dreaming of travel? Where would you want to go?

Submit a proposal describing your trip. Specific itineraries could be appropriate, but wandering is welcome as well. Travel dates should be flexible.

You could travel from America to Asia and wander with mobile phones or water buffalos. Or you could visit your Grandma in Casablanca. Give us a sense of where you might like to go, what you might like to do.

And then, describe what the web would see of it. Pictures, sounds, text, whatever. Consider yourself a foreign correspondent, and you're making your own article assignment.

Proposals should be between 500-1500 words. Two specific cities must be named. Previous web content experience is recommended; please include relevant URLs.
Evaluation:
Proposals will be reviewed for coherence, plausibility and vision.

Justin Hall will read over all emailed proposals in conjunction with a panel of judges to pick a winner.

Judges:


Wayne Bremser

author, traveler, web publisher: Beatthief and Harlem.org


George K Darby

writer, book publisher: Garrett County Press


Jeannette Harshbarger

traveler, bud.com contributor: "demanda lottacash"


Ryan Junell

traveler, videographer, web designer: TexasMonkey and himself


Elly Millicam

traveler, web journalist: elly.org


Steve Rhodes

media analyst: Tiger Beat


Svante Tidholm

traveler, web journalist: svante.se

Address all proposals to justin@bud.com. You can send questions there too, but if you don't get a response re-read the rules and use your best judgement.
Rules:
Justin Hall will provide one economy-class plane ticket purchased with frequent flyer miles. He reserves the right to adjust the dates and routing for travel. Travel must between one single city and another single city covered by United Airlines or one of its "Star Alliance" partners (they claim "The Star Alliance network covers more than 894 destinations in more than 129 countries.") Travel arrangements may be subject to flux.

Justin will provide an airplane ticket only. Contestant must cover other expenses (including tax on the airplane ticket). Justin Hall can't be held liable for any injury or damages resulting from this trip or the content distribution afterwards.

Travel should be initiated by June 2002 and finished one year later.

By submitting a proposal, participants agree to be publicly identified as such, and to provide web content as described in the proposal.

Previous media/web content is encouraged, though not mandatory. Participants need not maintain a web site before, during or after the travel, though that can be fun. Justin will help with hosting arrangements for content generated from the trip.

Justin Hall reserves the right to publish anything submitted for or resulting from this contest, attributed to its original contributor. Justin Hall reserves the right to maintain an archive copy on Links.net of any materials resulting from the trip.

Access to the web content outlined in the proposal should remain free and widely available on the world wide web for at least three years after the trip is completed. If need be, the winner is encouraged to seek donations before, during and after the trip.

Proposals should include name and contact information (email, post and phone; web addresses optional but encouraged). Participants may enter only once; if multiple proposals are received from a single party, the last one submitted before the deadline will be considered the final entry. Winners can live anywhere in the world, as long as they can leave from an airport available from the Star Alliance airline network.

Winners may not be one of the judges, or having lived with one of the judges in the last two years. Entrants should be at least eighteen years of age.

These rules governing this promotion are subject to change. At least until April 2002 the latest version of the rules should be available at http://www.links.net/share/mileage/.
Promotion:
Here is a press release, the straight text of which can be readily copied into email or other web sites from here:

For Immediate Release: 8 January 2002

-> contact: Justin Hall, justin@bud.com

"Win a Trip for the Web:" Announcing the Links.net Mileage Giveaway

Web writer Justin Hall is proud to announce "Win a Trip for the Web" the 
Links.net Mileage Giveaway Contest.  To celebrate the eighth anniversary 
of his web site, Hall will buy a plane ticket for the person who 
proposes to travel and share the results online.

Hall is soliciting 500-1500 word proposals describing a trip and 
resulting online content.  Entrants can propose to visit any one of the 
eight hundred and ninety-four cities covered by the Star Alliance 
airline network.  Entrants can propose any sort of content, as long as 
it can be freely served online.  Entrants need not have a web site; Hall 
will help the winner find a place to host their travel content if they 
don't have a place for it themselves.

To evaluate proposals, Hall has empanelled judges with a passion for 
travel and media.  Wayne Bremser is a writer known for his web sites 
celebrating American musical culture, including Harlem.org.  George K. 
Darby runs the GC Press, an independent book publishing company based in 
New Orleans.  Jeannette Harshbarger travels widely and contributes to 
numerous web sites.  Ryan Junell has directed and produced short films, 
television shows, and concert visuals for musicians.  elly millican has 
for years shared of herself through writing and a web cam at elly.org.  
Steve Rhodes is a well-versed media researcher who runs his own weblog 
Tiger Beat and contributes to numerous other media sites.  Svante 
Tidholm is a writer who has recently established DemonBox, offering silk 
screening facilities, computers, and a music studio outside of 
Stockholm.

Proposals must be submitted by February 28, and the winner will be 
announced a month later.  Further details, rules and proposal 
specifications for this giveaway can be found on the Internet's World 
Wide Web: http://www.links.net/share/mileage/


Here are some graphic banners that can be used to promote this contest. If you watch all three animations long enough, you will notice subtle differences.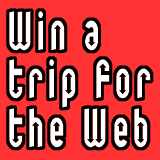 Just kidding about the subtle differences.