s h a r e


I have been so blessed in my life

this summer, I tried give somethin' back.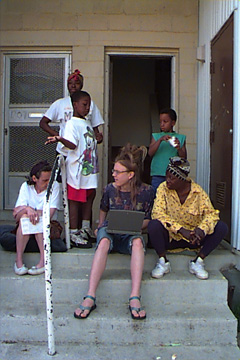 a second leg through the northward parts is ready, as soon as I have time. winter does not seem so inviting - too many cold clothes to carry through canada.
I set out to accomplish something particular -

was anything achieved?

spoke with more than a hundred total folks at cafes or clubs in austin, salt lake city, tucson, san diego, and at a university in missouri

taught web publishing to a ten year old in north carolina, a few enviromental, human rights, gay rights, reproductive rights groups in utah, a native seed bank in arizona, and some hosts and friends along the way

made a major breakthrough, at a club by the same name in witchita

and met lots of cool people who convinced me that folks is generally nice, given the chance.
I endeavored to packed light.
I postponed the northern leg to live with howard rheingold in marin, and help him start electric minds.
justin's links by justin hall: contact