Japan: Lodgings: Love Hotels: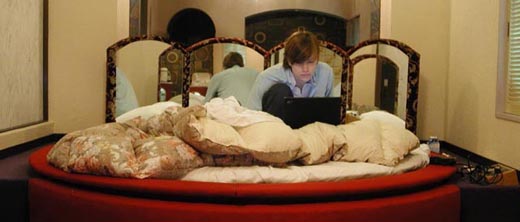 Hotel Paruko
Love Hotel
Shibuya
9500 / night
Parking
No Credit Cards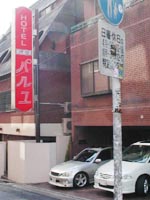 Driving around Shibuya after midnight on a Tuesday night looking for a Love Hotel with parking. Panoreko was convenient and we were desparate.

We couldn't have done much better looking for kitsch. The room photos in the lobby were fantastic; one room boasted a race-car bed, and the rest of the rooms looked like Austin Powers's boudiour aboard the space station depicted in Stanley Kubrick's 2001.

I picked room 301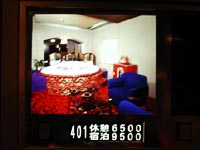 as I appreciated the deep red carpet and bed with hearty blue chairs and purple trim. Of course when we got to the room, the blue chairs had been replaced by a pleather yellow sofa, leading me to wonder how old the photos were.
Immediately impressive was the giant round bed. I found myself immediately romping around as I don't usually with a square bed; this bed was up on a platform and I could run circles around it. The circular shape of it felt somehow more intimate.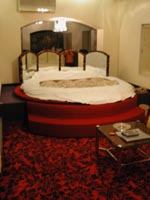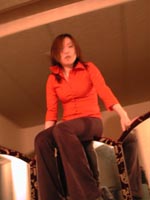 And then we noticed the controls at the headboard that controlled the bed rotation. The bed started with the mirrored headboard set in front of a wall of mirrors. Pressing the button and you could rotate around until the mirrors on the headboard reflected back into the mirrors on the wall. And then keep spinning. Ayako climbed on one of the mirrors and rode around just a bit.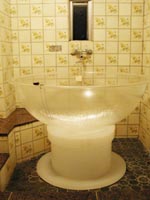 That was only a warmup for the truly astonishing furniture piece in this room - the bowl bath. A large clear plexiglass bathing bowl suspended atop a pillar. It fit two easily. Ayako could never find a proper place to sit and be comfortable; I let my legs hang over the edge and I was in heaven. Except I think the aged plexiglass showing some small fissures was making my skin itch, in the same way that surfboards and the like often do.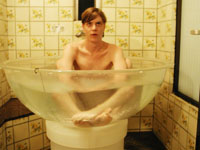 And in the morning after Ayako left for work, I sat in the middle of a round bed, computing. I very much enjoyed that position. I was allowed it until 11am.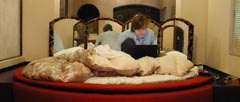 Love Hotels | lodging | Japan | trip | life
justin's links by justin hall: contact