Review of the Helsinki Scandic Continental Hotel
[warning: gleeful curmudgeon complaining]
It appears there are five possible stars a hotel can have. Five star hotes are rare and pricey, just about perfect. Four star hotels are more common, but still lux; as the reasoning goes, should be at least 80% perfect.
Marble bathrooms are nice. A sauna and swimming pool that are clean and functioning are worthy indeed. But hotel stars begin and end with service. I will now list a few moments my petty whims were defied by the Scandic Continental Hotel in Helsinki.
Taxed Morning Staff

Fresh from a positively delightful sauna/swimming pool/shower routine, I strode out of the elevator into a convention of visiting Swedish luggage salespeople. I had no idea who they were, but there were lines of them sprawling across the lobby. The two blonde staff people on duty were up to their ears in Scandinavian check-ins, leaving them no time to respond to the needs of their residing guests.
I simply wanted some guidance to another part of town. Which tram should I take? This kind of local instruction should be no challenge for a four-star hotel. But the Scandic Continental model of efficient and antiseptic staffing left no staff member who wasn't taking credit cards and handing out room keys. No concierge, no doorman. No guest services. No extraneous staff. No one to guide me to the tram.
I managed to quiz one of the staffers as she reached across the counter for a piece of paper. Hurredly, she scanned my map, "Oh! That's easy. Take the number 10 tram to the end of the line." Relieved that my information demand was so easily met, I followed her instructions to the letter. I ended up on the wrong side of town, needing to take a ten minute cab ride to be late to my appointment.

No Clock


My Scandic Continental Helsinki Hotel room had no clock. A hotel room with no visible time-keeping device. I inquired at the front desk; there must be some mistake, my room is missing a timepiece. We don't have clocks in the room, the young man said without a trace of humor or mirth. Struggling to reign in my astonishment, I asked if I might have a clock for my room. Please use your TV, I was told. So I should leave my television playing through the night, so if I wake up in the dark I can squint over at the quietly squealing neon box to see the hour? There are billions of clocks produced by China each week; please buy some.

My persisting after some timekeeping device had the blond staff shaking their heads, their smiles fading into near scowels. Somehow I thought a timepiece was so elemental a part of a hotel room. Let alone a four-star hotel room! I've stayed in 3$ Honduran bunkers calling themselves hotels, they had clocks. What's up with the Scandics? They wanted me to rely on the unremarkable and aged FinLux TV in my room - I wanted them to cater to my whims. They begrudgingly offering to see if housekeeping had any lost-and-found clocks I might use. They then neglected to call to let me know that housekeeping had kept the clocks for the poor timeless children of Finland. I had to bother them again, which was not a total loss: I was able to gently tease and taunt them for running a four-star hotel with no clocks in the standard rooms.

No Support for a Burn Victim


Returning from the sauna bar at 12:30am my last night, I plopped my problem on the granite check-in counter: my right hand thrust into a garbage bag filled with melting ice. I had lingered too long on a loily and the steam rising from the sauna burned my fingers. As I expected to sauna again the next day, I wanted some salve, medication, creme or even just some hand lotion. No go. No go? Superfluous hand lotion is the stock and trade of so many three and even two star hotels! Little plastic bottles of smelly cream abound! But not here. The "Practical Nordic Efficiency" character of this chain means one soap/shampoo bottle anchored above the sink and in the shower. No four star distinction between soap, shampoo and conditioner here. And there is no hand lotion, in the room or behind the desk. And no relief from any first-aid kit either. Not even a melty scar-tissue minor guest catastrophe could sway them to dig out other means of customer satisfaction or half-degree burn relief.
Add the tarnished post-Soviet institutional decor and layout and it would have seemed to be a rather dim experience. But understand that I lived here for five days. I spent many of my mornings sitting in the hotel and meeting housekeeping as they came to clean up behind my web production work. I'm growing into a rigorous working traveller. I don't really care so much about conditioner in my shower, but if someone puts me up in a hotel that says four stars, and all I can find online before my trip are bland reviews, I want to set the story straight for the people of the internet.
What might be the Helsinki Scandic Continental Hotel's salvation? The fantastically comfortable bed, the strong water pressure. The lady who helped me locate a pliers to dismantle a small artist's easel I purchased thinking it would fit into my suitcase, but at 3am two hours before my departure, I needed my hotel to provide specific tools for nuts and bolts. And they did! A suprememly satisfying customer service moment.
Then there's the defacto Scandic breakfast buffet. There's no real variation in the content of the Scandinavian Shoney's lineup, but by the end of three or four days, any eager eater can develop some breakfast sandwich crafting skills: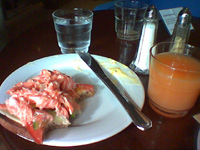 Witness butter on dark rye break, topped with emmenthal cheese, cucumber and tomato, and poached salmon. Fresh ingredients, good flavors. And great grapefruit juice! Yum! Find me a clock and I'll stay there again. Or maybe I should bring my own? Or call ahead.